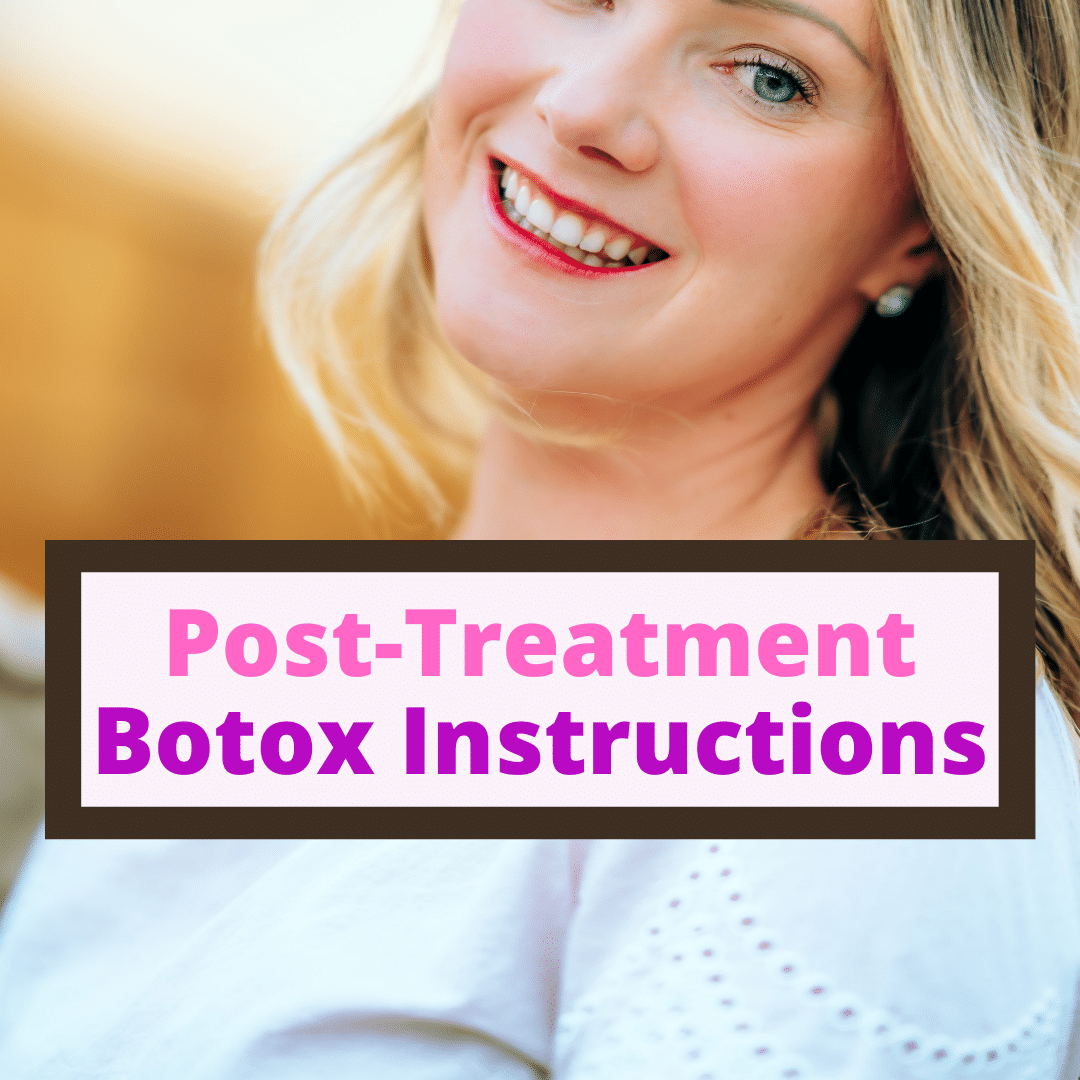 Post Botox Instructions
Did you just get Botox or Xeomin treatment? Searching for post treatment Botox instructions?
Oftentimes salon "rush you out" the door, so you may be left wondering what you should do post Botox.
No worries – I got you covered!
Post Botox Care: Botox Post Op Instructions
Here are simple and easy post-treatment Botox instructions.
1. Do NOT lie down for 4 hours after your Botox treatment.
Lying down can cause the Botox to track into the orbit of your eye or cause a drooping eyelid.
2. Do NOT exercise for 24 hours.
Do NOT perform activities involving straining, heavy lifting, or vigorous exercise for 24 hours after treatment.
This is one of the easier post treatment Botox instructions for many women to follow. 😊
3. Don't touch it!
Do NOT manipulate the treatment area for four hours following the treatment.
4. Don't get facials.
Do not receive any facials, laser treatments, microneedling, dermalblading, microblading, or microdermabrasion after Botox injections for at least 10 days.
5. Avoid the heat.
Avoid extreme heat such as saunas, steam rooms, and hot tubs for 25 hours.
Where Did I Get These Post Treatment Botox Instructions?
I got these Botox post op instructions from the place that I go to for Xeomin and Botox. Simple as that!
Botox Post Treatment Instructions, Advice, and FAQs
Here are a few questions you may have related to Botox post care.
Do I need to follow the Botox post treatment instructions?
Yes! You don't want to have spent $150+ and then have the results vanish because you worked out.
Do I really need to wait 24 hours to exercise?
You could probably push it a little bit...walking is fine. You can probably go on a run the following afternoon if you get Botox the prior night.
How long until I will see results?
It may take 4 to 14 days for results to be seen. Personally, I notice the results within the next day!
Will I be in pain after getting Botox?
You should NOT experience pain after your Botox treatment.
Botox vs. Xeomin
Considering Xeomin or Botox? I personally go with Xeomin because it is cheaper.
How to Look Younger Without Botox
Not ready for Botox? I get you!! If you are unsure, then I'd recommend sticking to a good skincare routine that includes a daily SPF moisturizer, an anti-aging cream at night, and an eye cream.
Below are my top tips and picks for beauty products to prevent aging and to look younger.
1. Use a Daily Moisturizer with SPF
I swear by the Laura Mercier primer with SPF. It doesn't cause breakouts and wearing a daily SPF is key to staying young!
The Primer with SPF by Laura Mercier is really THE BEST daily SPF moisturizer in my opinion.
2. Use an Anti Aging Cream at Night
It's expensive, but the StriVectin anti-wrinkle cream works wonders.
The StriVectin Anti-Wrinkle Cream is the best anti-aging cream for night in my opinion.
3. Use an Eye Treatment at Night for Under Eye Circles
I love the ROC Retinal Correxion eye cream. It's the best for under eye circles.
4. Take Care of Your Health
Have plenty of water, eat your veggies and fruit, and get enough protein and healthy fats.
Get plenty of sleep too and make sure to get quality sleep at night.
5. Always Wear a Hat!
A hat will protect your face.
More Articles You May Love by Very Easy Makeup
We don't just write about beauty products and makeup on Very Easy Makeup! We write about cute outfits and fashion finds from Amazon too.
Check out these articles and pages by Very Easy Makeup.
Fall Engagement Photo Shoot Outfits and Dresses
DIY Stitch Fix Outfits and Stitch Fix Outfit Ideas
More Articles on How to Look Young without Botox or Xeomin
How to Look Younger Than Your Age
How to Look Younger in Your 30s
How to Look Younger in Your 40s
Connect with Very Easy Makeup
I'd love to connect with you!
Follow Very Easy Makeup on Facebook to get notified of new beauty, makeup, and fashion posts!
Please subscribe to the Very Easy Makeup YouTube channel. You'll find how-to tutorials for very easy makeup and bleaching hair blonde at home.
Sign up for the Very Easy Makeup Newsletter.
(This post contains affiliate links. View the disclosure here.)